Type 5530

It is the series that it appeared as the lowest rank, diffusion model of the Multistation.
To plan a cost reduction, i8086 is adopted in the CPU, Diskette, only for 2DD.
Specifications aren't so good considering the price when still it is compared with the
model of the rivalry other companies.
A system, unit is a compact form in common with 5540.
A change seems to be added to the model G1 to use it as a terminal of 5250.
It seems that the model which a word processor, a spreadsheet, and so on were
installed in was on market, too.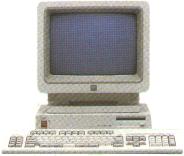 Model

Price(JY)

CPU
Clock

Memory
(MAX)

Disk

Diskette

Font
Color

Slot

Notes

5530-G02

355,000

i8086
8

640
1408



3.5
2DDx2

24dot
Monochrome

2

Kanji Font
standard equipment

5530-G08

530,000

i8086
8

640
1408

20

3.5
2DDx1

24dot
Monochrome

2

Kanji Font
standard equipment

5530-G12

405,000

i8086
8

640
1408



3.5
2DDx2

24dot
Monochrome

2

Kanji Font
standard equipment

5530-G18

580,000

i8086
8

640
1408

20

3.5
2DDx1

24dot
Monochrome

2

Kanji Font
standard equipment

5530-H02

410,000

i8086
8

640
1408



3.5
2DDx2

24dot
Color

2

Kanji Font,
Graphic Support Function
LSI standard equipment

5530-H08

585,000

i8086
8

640
1408

20

3.5
2DDx1

24dot
Color

2

Kanji Font,
Graphic Support Function
LSI standard equipment


About the memory
The memory of 1MB and more can be used only as a RAM Disk.

About the software
Because Diskette is only for 2DD, software for 5540 is as it is, and it can't be used.
It prepared for the various pattern turns of the software with the OS for that only for 5530.


Index