5499 On-line Note

Actually speaking this model doesn't belong to Multistation series nor
to PS/55 series (although it may possibly be a compatible machine per PC/XT ...) .
It's one of propriately system made by IBM Japan.

I just have several documents such as users manual and guide books which
describes how to use this system.
However, I have not seen the system.
Therefore, the thing beyond the contents of a manual is not understood.

Since this model is not classified to Multistation series I hesitated to
upload this section. However any information about this model is not available
at any web site as well as Multistation series. That's why I addded this section.
At leaset, the system was designed to be used as an online terminal together
with Multistation PC's. It may be a kind of family system of Multistation.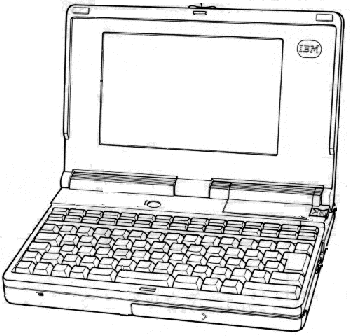 Outline
Hardware
Software
Options


Outline
This model appeared in October, 1989.
It was the time when a notebook PC began to appear to make the large-hit Dynabook
(J-3100SS) into the start those days.
Although there were already 5535M as a laptop model also in IBM Japan, there was no
battery,
it only said also from a size or weight, "It can carry".
And the actual condition was the desktop machine which does not take a space.
Then, it is thought that it was developed as a computer in a true meaning which can be
carried and used.

Connecting with a host system with 5250 emulators from a going-out place and
prcessing by collecting data at a going-out place and moving data to other personal
computers, seem to be the original purposes.

Although it seems that the application software for business, such as a word processor,
was also put on the market by a certain grade, since there is no catalog of software, it
does not understand for details.

Although mentioned later for details, hardware and software had the various features.
The way of thinking has some which also fully lead now. However, it is the specification
as which the limit of technology of those days is felt.
Other computers are used and this computer may also be able to be called "appearance
which was too quick" like a certain thing.

Page Top


Hardware


5499 specifications

Model

Price(JY)

CPU
Clock

Memory

RAM
Disk

Font
Color

Slot

Modem

5499-001

198,000

i80186
8

640

128KB

16dot,Mono
640x400dot

ICx2

Max1200bps

5499-002

248,000

i80186
8

640

256KB

16dot,Mono
640x400dot

ICx2

Max2400bps

Although it understands if you look at specification, there is no kind of a Disk drive.
DOS is started from ROM, application software is read from a ROM Card, and data is
stored in a RAM Disk or a RAM Card.
The RAM Disk and the RAM Card are backed up with the battery.

There were two kinds of models by the difference in the capacity of a RAM Disk, and
the difference in the speed of a modem.

A modem is built in and it can connect now with a telephone line.
Moreover, it has come to be able to perform communication with other personal
computers using a serial port and optical communications.
When scrupulous as "On-line", it is thought that it is but here.

A size is A4 size just. It is somewhat smaller than the Dynabook of A4 file size.

Considering a technical level of those days, an unavoidable thing has the small size
of LCD.
However, seemingly the resolution of a screen is not the model of IBM Japan. This
completely gives that it is the computer of another kind.

Page Top
Index